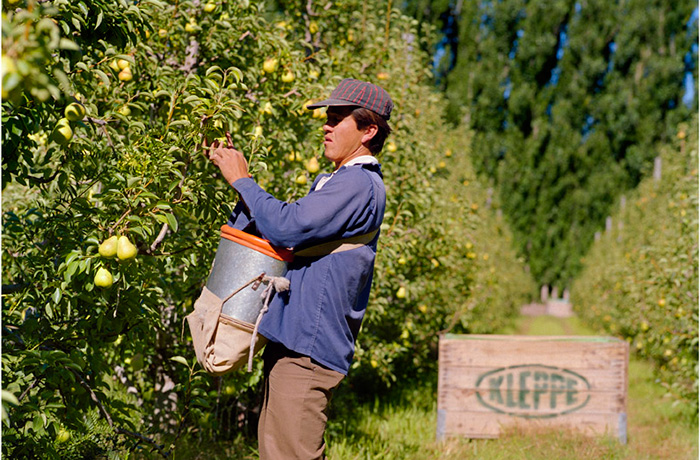 The potential production, based on the total land planted in the 30 own orchards, is 76,000 tonnes, equivalent to 4,000,000 boxes. With the current 55,000 tonnes of fruit harvest, Kleppe is the main grower of pears and apples in Argentina.
In the year 2012 Kleppe acquired nine orchards in the Upper Valley area for a total of 800 hectares, where 420 hectares of them were productive.
::El Caldero
In the Mid-Valley of Río Negro we have developed a premium fruit growing area called El CALDERO, with a total area of 6,000 hectares of which 2,500 are apt for fruit growing. Round about 1,400 hectares have been leveled and are under irrigation with 1,100 of these planted with fruit trees in medium density trellises.
Our tree nursery, where we produce more than 100,000 trees per year, guarantees the quality of the crop. The stocks and variety grafting material have been imported from various foreign nurseries in accordance with all the sanitary and legal regulations.
:: Orchards in the Upper Valley
In the Upper Valley of Río Negro, we own a total of 1,500 hectares of which 1,100 are planted.
This area is made up by 20 orchards, located within a radius of 70 km from our offices and packing houses.
Independent growers
The remaining volume comes from selected independent growers with an approximate total of 7,500 tonnes of apples and pears. These independent growers receive technical and financial assistance throughout the year thereby insuring quality standards comparable to our own and reach the level of the international certifications.
Kleppe S.A. provides all the agrochemicals to be used, as well as the management and supervision of the applications, thus insuring the adequate usage and fulfillment with the quality standards.