Kleppe S.A. is a company with 85 years of recognized history in the national and international markets and 2,500 employees, specialized in the production of high quality apples, pears and cherries, and pioneers in the introduction and development of new varieties and technologies along the whole production process, nursery, growing, packing, storage and commercialization.
Our brand, Gaucho®, is exported to more than 35 countries in 4 continents under the highest world class standards complying with all the required certifications for primary production, packing, cold storage and dispatch (ISO 22,000), Global Gap, Tesco Nurture).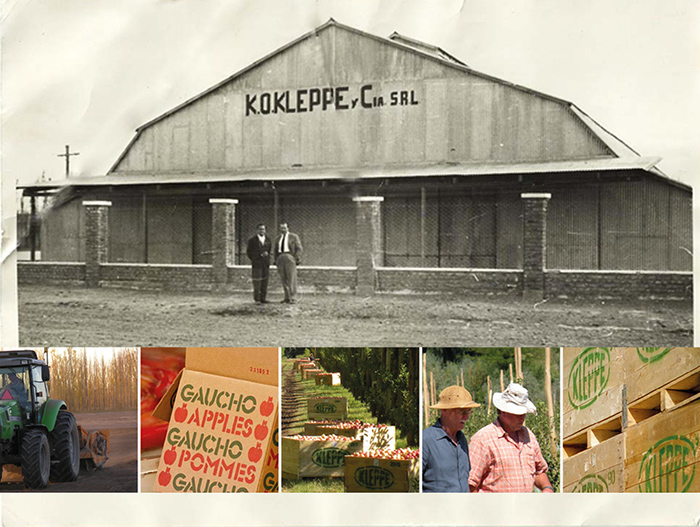 80 years of history
In 1932 Knut Olai Kleppe, a Norwegian who had arrived to Argentine in 1928, founded K.O KLEPPE & Co. S.R.L. thus establishing a business importing and exporting fresh and dried fruits.
 In the mid 40's he opened his own packing shed in Cipolletti, Río Negro, and later extended his activities to the production of apples and pears.  From then on, the Company has been focused on the increase of its own fruit production as a fundamental basis to obtain quality fruit, thus becoming one of the leaders in Argentina, particularly in the export market.
 In 1966 K.O. Kleppe died in an aviation accident and his son Enrique Kleppe Otamendi took over the Company becoming its owner. From then on, the Company has been focused on the increase of its own fruit production as a fundamental basis to obtain quality fruit.
 In 1972 a vast tract of desert was acquired in the Mid-Valley of Río Negro. The objective was to develop a productive establishment on a large scale. Great effort has been made for more than three decades to build up and consolidate the modern productive structure which today is "El Caldero".
In the area of the Upper-Valley of Río Negro, the company has sistematically expanded its productive area, from the two original orchards up to twenty orchards currently.
Infrastructure
The main facilities are located along the Río Negro Valley, main productive zone for pears, apples and cherries in Argentina since more than a century ago.
The Río Negro is formed by the junction of the Limay and Neuquen rivers. Both rivers have their sources in the high Andes mountains and flow through a narrow valley where approximately 100,000 hectares of Patagonian desert are irrigated, thus achieving a fertile soil.
The climate that prevails in the area is continental, temperate and dry (less than 300 mm yearly rainfall) with warm days and cool nights, ideal for the production of quality pears, apples and cherries.
The combination of soil formed by alluvial deposits, climate, unlimited availability of irrigation water and uniform fruit ripening allows a relatively early harvest compared to other Southern Hemisphere locations.
The three packing facilities and five cold storage facilities are located in the cities of Cipolletti, General Fernandez Oro and Contralmirante Guerrico, all of them within a 25 km radius.
100% of the fruit packed comes from Kleppe's own orchards.